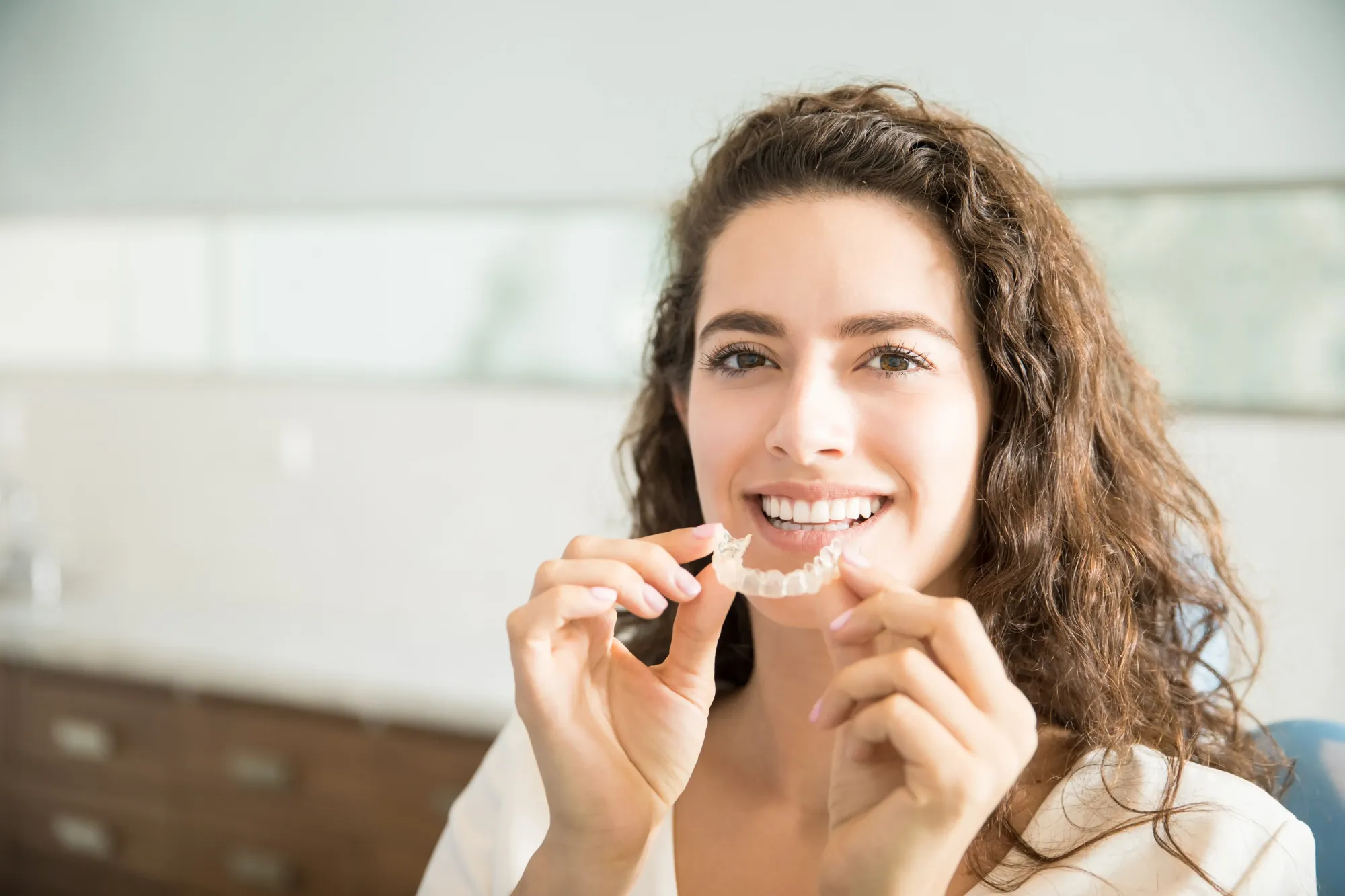 Straight teeth have often been linked to a perfect smile and an attractive personality. In general, straight teeth also help with confidence and self-esteem issues.
But, whenever we think of straightening teeth, we may immediately picture those traditional metal braces, with the steel brackets and wires. Thankfully, new age orthodontics allows us for the effective correction of misaligned teeth without having to wear uncomfortable and unsightly braces.
via GIPHY
In case you are looking for a minimally invasive, nearly invisible way to straighten your teeth, then clear aligners may be for you. Clear aligners, like Invisalign, are designed to correct crooked teeth by using a series of custom-made aligners for every patient. This might sound quite lucrative, however clear aligners are yet to prove their worth, in being able to provide correction, in severe orthodontic problems.
So, we reached out to Dr. Sonali Grover, MDS Orthodontist, Invisalign-certified, Dentamax Dental Clinic, and asked her to tell us the things we should consider before choosing aligners or braces. Read on to know everything she shared!
1. Severity Of The Misalignment
While most of the mild or moderate teeth misalignments can be treated by clear aligners, the more complex problems need intervention with fixed appliances like braces. Your orthodontist, may sometimes suggest a combination of the two, for precise finishing of the treatment.
2. Cost Of Treatment
In some cases, the cost of aligners can be more than that of braces. However, in many cases, they are similar or the same. If cost is a factor, then the traditional braces might be your treatment of choice to get that perfect smile.
via GIPHY
3. Patient Cooperation
Any kind of orthodontic treatment, requires cooperation from the patient for its success. But, in the case of aligners, they need to be worn 22 hours a day to be effective. This means they are only removed for eating and cleaning. Compliance equals results!
Braces, on the other hand, are fixed appliances, so patient cooperation in not an issue in most of the cases. Also, Aligners need to be removed for eating and cleaning. Some patients may find it difficult to do this in public if they feel shy or embarrassed about it. You should be prepared to carry your aligner box every time you go out to eat with your friends.
4. Lifestyle
Most people, especially adults, want to keep their treatment discrete, and don't want a disruption in their lifestyle, by having food restrictions and additional cleaning routines. Well, if you are one of them, then clear aligners are more suitable for you. Most people won't even know you're undergoing treatment.
via GIPHY
Conclusion
In today's day and age, clear aligners are slowly and steadily becoming the treatment of choice, for the millennial patient. A correct diagnosis by your orthodontist, will help you in choosing the best possible option for your pearly whites.
Disclaimer: Orthodontic treatment should be carried out under the supervision of a trained orthodontist.