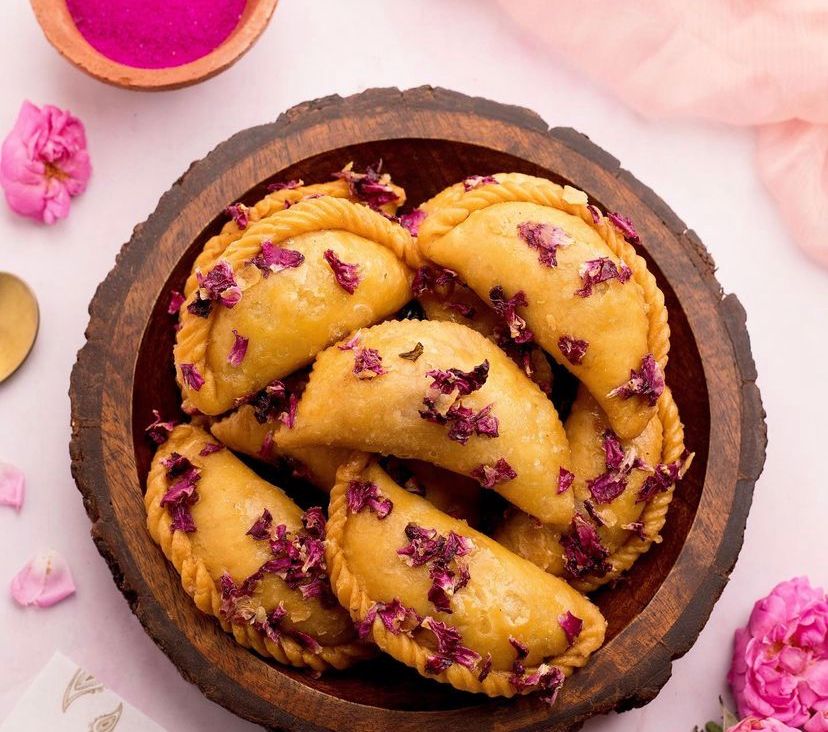 Every festival calls for good food and each festival comes with its own special treat. We are a country filled with food lovers. We can hardly ever get enough of it. Holi also comes with a whole of fried and sweet snacks that make us super indulgent. During festivals, we only worry about what to wear, where to eat, what to eat and how to enjoy, we don't worry about the calories and just enjoy. This Holi, let's do a roundup of all our favorite snacks and indulge in a few of them too!
1) Ghujiya
View this post on Instagram
Ghujiya is the ultimate fried snack. It is a crispy snack prepared with semolina or wheat pastry sheets stuffed with an assortment of fillings ranging from dried fruits, nuts, coconut, and dipped in honey. Ghujiya is literally the indulgent snack of our dreams. People nowadays have started preparing this delicious snack with chocolate and nuts to cater to millennial taste buds.
2) Thandai
View this post on Instagram
Thandai is a cold milk preparation made with a special blend of dried fruits, nuts, hemp leaves, and a dash of saffron. The cold milk preparation is an absolute favorite and people wait to enjoy this treat during the Holi every year.
3) Shakarpara
View this post on Instagram
Shakarparas are diamond-shaped fried crisps glazed with sugar. These deep-fried snacks are enjoyed with tea. A salty version of this snack called Namakpara is also made similarly glazed with spices and eaten just by itself or with tea.
4) Malpua
View this post on Instagram
Malpua is so decadent and rich, just looking at pictures can make you hungry. Malpua is made with malai, paneer, ragi fried in ghee and dipped in sugar syrup topped with chopped nuts and saffron. It is soft, gooey, and is relished just by itself after a day full of dancing and playing with colours.
5) Puranpoli
View this post on Instagram
It is a household favorite. Puranpoli is a paratha stuffed with a filling made with chana daal, jaggery, nutmeg, and cinnamon powder and topped with dollops of ghee. These crispy, sweet, ghee-loaded flatbreads can fill your heart and soul.
6) Chaat
View this post on Instagram
No big day is complete without Chaat. Paani Puri, Dahi Bhalle, Papdi Chaat, Bhel Puri, Aloo Tikki, isn't your mouth watering already? These dishes don't even need a description, just the names are enough to make you feel a million emotions.
7) Jalebi
View this post on Instagram
Jalebis are food for the soul. These saffron-infused, crispy ghee-fried delights can literally make your day! Binge and eat as many as you want on this festive day!
8) Kulfi
View this post on Instagram
Holi marks the beginning of spring. The temperatures start shooting and you need a cold indulgence. Malai, Pista, and Kesar Kulfis are all-time favorites and are the perfect way to end the night!