Feel The Shaadi FOMO? 11 Destination Wedding Locations That Will Give You The Wedding Of Your Dreams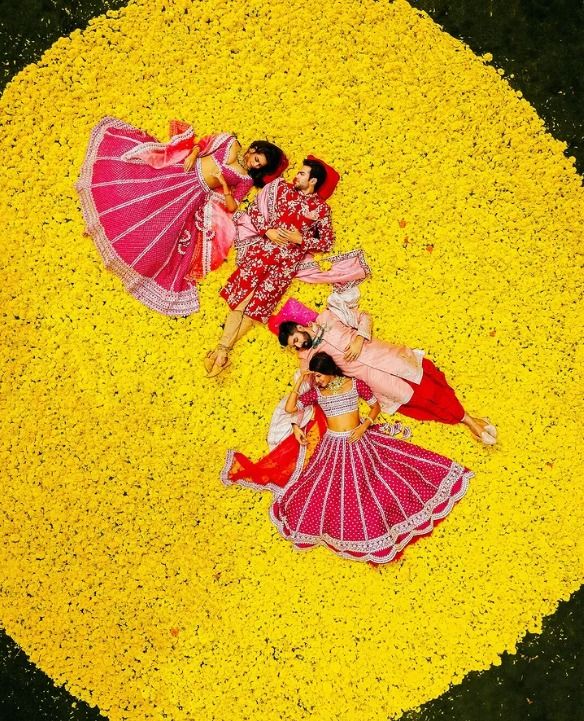 It's the wedding season. And we are all feeling the love because of the big fat Bollywood wedding but there is also some FOMO for missing out on some Shaadi action over the two years of the pandemic when everything went to a standstill. The dhol, the Shaadi ka Khana, the mad dancing, the over-the-top outfits is a vibe and we were all missing out on it, big time. But now with the #RaliaShaadi the Shaadi fever is coming back and even though the hottest couple in B-Town opted for a small home-style wedding at the iconic Vaastu in Pali Hill, we can't help but dream of the exotic locations they could have chosen. After we've seen Ranbir Kapoor's character Bunny live up to all the desi wedding goals in the 2013 Ayaan Mukherjee directorial Yeh Jawaani Hai Deewani we can't help but fawn over a palace-style wedding in the heart of the royalty in Udaipur. Weddings are a big celebration and who wouldn't want to make it grand. We bring to you some of the best locations for the ultimate desi destination wedding of your dreams.
1) Udaipur
View this post on Instagram
Udaipur has been the most coveted destination for a destination wedding. It gives all the royal feel with the majestic palaces, the serene lakes, the customs, and traditions. A royal wedding is on top of everyone's list and when it's royalty, no one serves it as Udaipur does. I am also one of those girls who can't wait to run down the palace aisles as the love of my life waits for me and the shehnai and dhol nagada go off in the background with a million fireworks in the sky as I take my pheraas.
2) Ranthambore
View this post on Instagram
Imagine taking your vows in the middle of the flora of fauna amidst the deep and beautiful forest. Ranthambore offers one of the best tiger safaris in the country. Marriages are made in heaven they say and a celebration done in touch with nature is absolutely divine.
3) Switzerland
View this post on Instagram
There is never a time when the snowy peaks can disappoint and for a wedding, it is the perfect destination. Nestled in the Swiss Alps in the bosom of the snowy mountains and you finally get engaged in a circle of warmth with the love of your life seems like a beautiful illusion. Just think of getting married in the mountains with a whole lot of cheesiness from the love and delicious cheese founders and loads of sweetness from the rich and creamy chocolates.
4) Goa
View this post on Instagram
Feeling summery, feeling beachy Goa should be your go-to wedding destination. If you're looking for a summer wedding location, Goa should be on top of your list. Your outfits can be all things soft-hued and summery as you celebrate your love by the sea sipping on mimosas and fresh coconut water.
5) Istanbul
View this post on Instagram
When you don't want a boring beach wedding and want something fun and exciting, Istanbul is packed with culture, traditions, scenic locations, and delectable food. It has a plethora of activities for your wedding guests as you get married in the beautiful city and end it on a sweet and relaxing note with sugar syrup dripping baklava and hot and steamy hammam baths.
6) Thailand
View this post on Instagram
From beautiful beaches with clear skies and blue waters to opulent royal palaces and fancy beach resorts. Thailand should be your go-to wedding destination for a top-notch beach wedding. With summery kaftans, and neon bikinis sipping on some fun cocktails on the beach as your party the night away, if this is the vibe that you're going for—Thailand should be on top of your list.
7) Italy
View this post on Instagram
Italy is a favorite amongst most of our Bollywood folk, be it the gorgeous Tuscan hills, and the serene views of Lake Como, Italy has so much to offer. Long coastlines, clear skies, delicious cheeses, decadent plates of pasta to binge on a whole lot of Italian love and romance mixed with rich culture and traditions.
8) Kerala
View this post on Instagram
If you want to stay true to your roots and have the perfect Indian wedding, the Kerala Backwaters will never disappoint. It's serene, relaxing with a string of coconut trees making it a scenic location with still waters and stunning green views.
9) Côte D'Azure
View this post on Instagram
A wedding in the country of love is a wedding done right. The French know their wine, their cheese, their desserts, and more importantly their love. Just picture yourself getting married on one of the many luxe French beaches with big straw hats as you bite into a creamy piece of cheese and sip on expensive wine and take a stroll on the many French roads.
10) Portugal
View this post on Instagram
Spain is all things fun, adventure, and beauty. Ever since,
I have watched Zindagi Na Milegi Dobara, Spain has always been on my bucket list. And to think of it as a wedding destination can be tricky but it's not impossible. It's rustic, vintage, aesthetic bubbling with traditions, culture, gastronomy, and beautiful weather. What else do you need for a perfect way to seal your love?
11) Pondicherry
View this post on Instagram
If you want a simple, vintage, French-style wedding with colorful locations and magnificent sceneries—Pondicherry should be an easy pick. It's just another simple location that is easy to get to, has good weather, and is just perfect for your French aesthetics but on a budget.