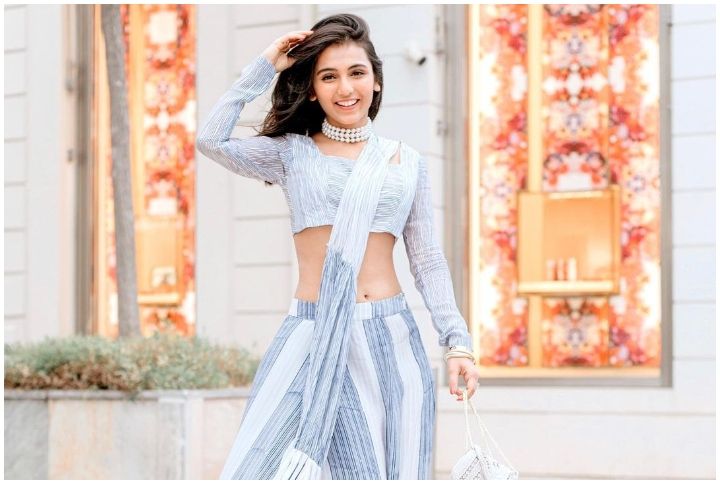 As you all know, Masoom Minawala loves to try out new spaces when it comes to digital content. Wearing a mix of acclaimed international and homegrown designers, she's trying her best to bring Indian fashion to the world. With so many awards and accolades in her bag, she is not just a reputed influencer but also a growing entrepreneur. She is now hosting a social media exclusive reality series that documents her journey in the fashion cities of the world as she covers the most important event of the industry, THE FASHION WEEK! In her caption, she says – "I would love for you to virtually come along with me for the next 2 weeks as I uncover the story behind the glitz and glamour of the runway." Now, let's have a look at the trailer below.
View this post on Instagram
Are you excited, let's go! Episode 1:
View this post on Instagram
This is what 'ah-mazing' content looks like! Ngl, you have come a long way Masoom. We can't help but wait for the next episodes. Until then, let's have a look at some of her Fashion Week Lewks now. Shall we?
View this post on Instagram
A beautiful young lady making people green with envy! This look defo turned a lot of heads, and people are loving the juxtaposition of the emerald attire against the backdrop of Parisian streets.
View this post on Instagram
Talking about the LV show, she wrote on Instagram, "The Louis Vuitton runway was decorated to be a grand ballroom, celebrating a medley of designs from different eras but not without a contemporary twist. It was as if I had entered a time machine where retro high fashion met futuristic elements."
View this post on Instagram
Slaying at the Hermes event, Masoom also wore a breathtaking Vaishali S Couture outfit at the Hermes Show. "In line with my mission of taking Indian fashion to the world, I did consciously wear a lot of emerging Indian designers. I picked one khadi handloom work outfit from Vaishali Studio. It was really important for me to highlight and be able to show the global world what Indian fashion and designers have to offer," she said.
View this post on Instagram
Walking through the fashion capital! Many of her looks, be it on the streets or at airports, have a simple elegance to them. She looks chic but comfy and we can't help but want all her outfits!
View this post on Instagram
Another outfit she wore had a word written in Devnagiri script over a sweatshirt paired with a skirt, accessorised with a bag making her outfit look classy.
View this post on Instagram
Masoom Minawala Mehta has taken over the Internet after she walked the red carpet at Cannes Film Festival 2021 in a stunning white chiffon stitched saree by Indian fashion designer Manish Malhotra. She defo stood out in her shimmery sequinned saree with trailing cape sleeves that followed her on either side.