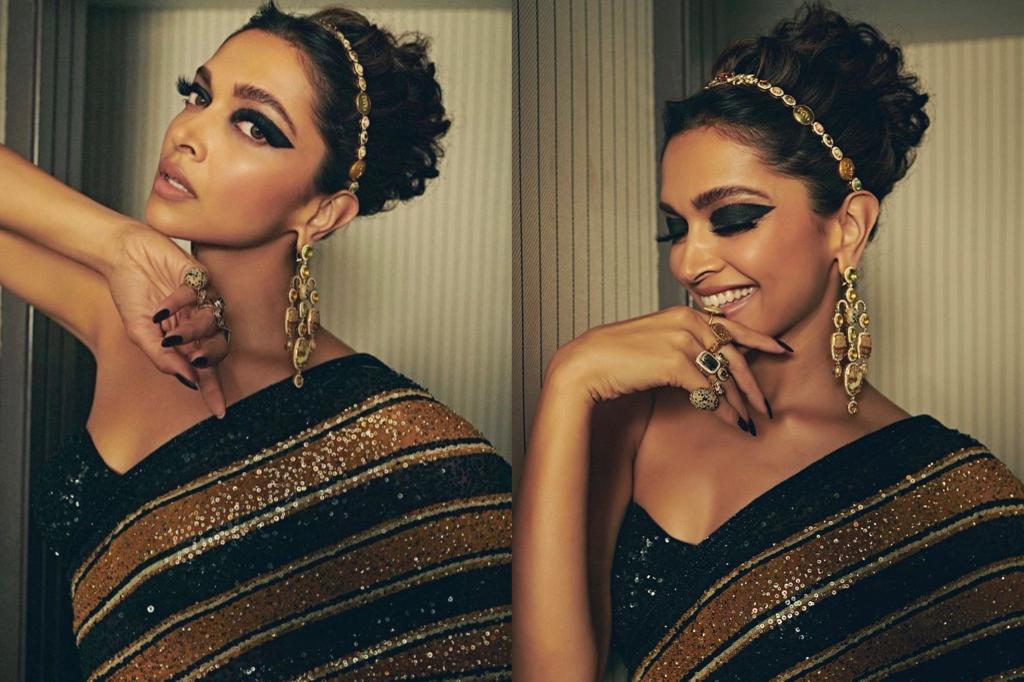 The Cannes Film Festival of 2022 has officially begun and we couldn't be more excited. However, our excitement stems from the fact that we get to see our very own Deepika Padukone walk down the red carpet in all of her glory. Gripping the world by storm, she's here for some global domination. Was I the only one who stayed up to get a look at her outfit and makeup? It was defo worth it because that regal Bengal Tiger Couture sari by Sabyasachi had me mesmerised.
However, all of my attention and I'm certain, yours too was on the stunning makeup. Only Deepika Padukone can be the carrier of minimalist beauty as well as some maximalist glam. Not being afraid to jump out of the four walls of mainstream makeup, she's seen sporting a bold, editorial patterned eye. The intensity of this eye seamlessly blends with the outfit Deepika's donning. And we gotta say, we're in LOVE! Most of us shy away from experimenting with bold colours and patterns, don't we? Deepika's just given us a reason not to! So if you're wondering how you can try and ace these smouldering eyes, we've got you covered with these hacks. —
Use An Angled Brush
An angled brush is a major beauty saviour when it comes to the precise application of eyeshadow. Its shape allows you to direct the patterns you're looking for. In this case, all you need to do is gently dab your brush into your eyeshadow, and ensure that you don't pick up too much of it. Trace a line, just like you would with your eyeliner. You're going to notice how easy it is to do, all thanks to the handle of the brush. After this, all you need to do is have the external corner of your line meet your inner corner in small strokes.
The Kajal & Thread Technique
Okay, we know this is a viral hack but trust us, it does the trick oh so well! You need a thread that happens to be extremely thin to make sure your lines are crisp. Next, opt for an intense kajal or kohl, one that is creamy in its formulation. Rub the kohl over a thread, just till the length that you'd like your eyeshadow to be. Gently use that on your outer corner to trace a line and voila! You're done. Now, use the same kohl to draw smaller lines in order to perfect the shape of the eyeshadow. And fill it in!
The Good Old Sellotape
Another viral hack that's made it to our books has got to be the classic sellotape hack. It may look hilarious but hey, we love the result! Choose a small sellotape and cut it just the right length and stick it on your outer corner. Next, opt for either an eyeliner or kohl to help you trace a line. Follow the sharp line and draw your wing. After this, connect it to the inner corner with the same eyeliner or kohl and then all that's left is to fill it in with some matte black eyeshadow.
Opt For A Stencil
If you're lucky enough to come across an eyeshadow stencil, it's probably the best trick in the book! Eyeshadow stencils are created to guarantee you the most precise and perfect application, exactly how you want it. Place the eyeshadow stencil over the desired part, and begin by filling it in with eyeshadow in soft strokes. Once you've traced this, it's time to go a little intense with the colour and fill it completely.