'Dilwale Dulhania Le Jayenge', 'Yeh Jawaani Hai Deewani', 'Dil To Pagal Hai' & More – 7 Classic Love Stories To Revisit This Valentine's Week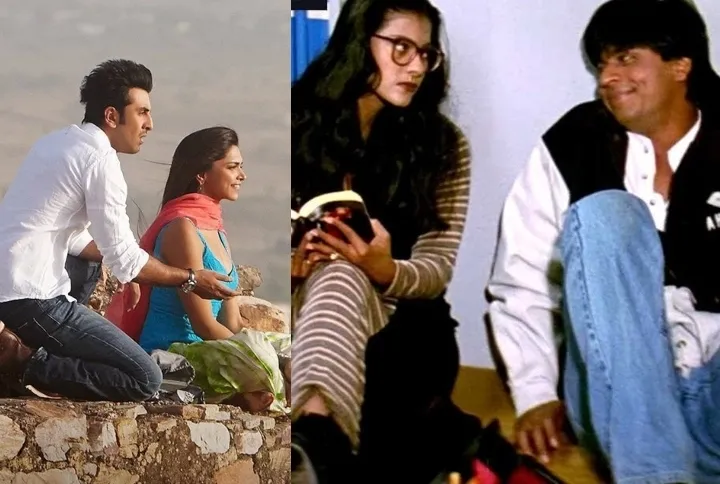 Valentine's day is round the corner, love is in the air and here's just another reason for die-hard romantics like me to indulge into some of my favourite on-screen love stories again. We've grown up on some of these movies and hence, they also set in a big rush of nostalgia. But the truth is, that these have been such well-made films with such beautiful narratives that I can't get bored of them. It's difficult to choose just some but I'm picking out 7 love stories which have a universal appeal and which remain evergreen. Check these out!
Dilwale Dulhania Le Jayenge
No points for guessing this is the first film on the list. No film in India has enjoyed such a long run in the theatres. It was showing for about 25 years at Maratha Mandir and during the pandemic when there were no new movies coming in, Dilwale Dulhania Le Jayenge had again started playing there. The dialogues to its music to the iconic pairing of Shah Rukh Khan and Kajol – everything about DDLJ is a part of our pop culture and this one is just one of its kind!
Dil To Pagal Hai
Okay, honestly, I sometimes have a tough time deciding whether I like Dil To Pagal Hai more of DDLJ because they both give a different feeling and its own beautiful vibe. But I have to say this and it may be different from popular belief that I like Dil To Pagal Hai more! It was a different level of a story, treatment and an extremely contemporary appeal. Also, this one was directed by Yash Chopra himself. That just says it all. Madhuri Dixit's monochrome dresses, innocence and chemistry with SRK, Karisma Kapoor's energy, the music and of course Khan's inimitable charm – this film takes me to a different space all together.
Veer Zaara
Another Yash Chopra classic, Veer Zaara spoke about patience and persistence in love, which seems missing today. The film was so beautiful and made us believe in these values all over again. It was a treat for SRK fans to see him in this avatar and this kind of romance too. The performances, music and of course Chopra's signature touch – Veer Zaara is a classic.
Kuch Kuch Hota Hai
At some point in our life, we have all wished to have that the quintessential Rahul-Anjali dancing in the rain, Kuch Kuch Hota Hai moment happens to us. I'm sure, we are all guilty to have imagined that. But that's the whole point of all these mentioned movies – that they did something to us. They made us feel, they made us relate and they made us have fantasies around love. So, go watch the classic, feel good, Kuch Kuch Hota Hai, once again!
Jab We Met
There was something so beautiful between the friendship of Aditya and Geet in Jab We Met, that all through the film we were rooting for them to get together. Their natural camaraderie, chemistry – Geet's energy mixed with Aditya's silence – made Jab We Met so heartwarming for me. I am a huge fan of Imtiaz Ali's narrative and how he approaches his story – be it Socha Na Tha or Rockstar or Jab We Met. I think he just has a very different way of presenting love stories and I love that. Perhaps, I love how he even treated the love story between Alia Bhatt and Randeep Hooda in Highway.
Love Aaj Kal
Again, an Imtiaz Ali film – he brought such a beautiful relatability between love in old times and love today, and eventually making us draw a conclusion that love, when in its pure essence will be the same in any era. It's one of Saif Ali Khan's best work and also one of my favourite roles of Deepika Padukone despite the fact that she's done so many films after that. Pritam's music was just mesmerising.
Yeh Jawaani Hai Deewani
Bunny and Naina are characters which have stayed with us, the first time we saw Yeh Jawaani Hai Deewani. The deep dialogues have touched us, made us think and perhaps emulate those thoughts into our lives. Such a beautiful film – filled with fun, memories, nostalgia, friendship and most importantly, love!
I hope this list makes you reminisce these films and their moments and watch them all back-to-back! A nice way to celebrate Valentine's week, ain't it? Whether you're single or in a relationship, movie-binge is always a great idea!